Drug information of Desipramine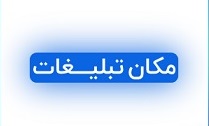 Desipramine
فارسی
Desipramine is a tricyclic antidepressant. Desipramine affects chemicals in the brain that may be unbalanced in people with depression. Desipramine is used to treat symptoms of depression.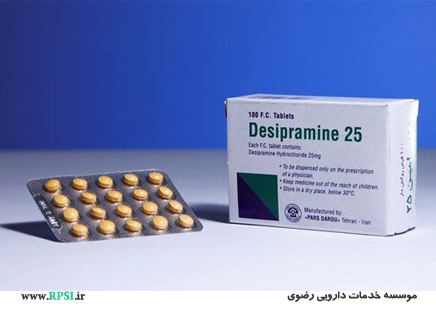 Mechanism of effect
Available evidence suggests that many depressions have a biochemical basis in the form of a relative deficiency of neurotransmitters such as norepinephrine and serotonin. Norepinephrine deficiency may be associated with relatively low urinary 3-methoxy-4-hydroxyphenyl glycol (MHPG) levels, while serotonin deficiencies may be associated with low spinal fluid levels of 5-hydroxyindoleacetic acid.
Pharmacodynamic
Desipramine, a secondary amine tricyclic antidepressant, is structurally related to both the skeletal muscle relaxant cyclobenzaprine and the thioxanthene antipsychotics such as thiothixene. It is the active metabolite of imipramine
Pharmacokinetics
Desipramine hydrochloride is rapidly and almost completely absorbed from the gastrointestinal tract. It undergoes extensive first-pass metabolism. Peak plasma concentrations are attained 4 - 6 hours following oral administration. Protein binding:73-92% bound to plasma proteins. Desipramine is extensively metabolized in the liver approximately 70% is excreted in the urine. Half life:7-60+ hours.
Dosage
Usual Adult Dose for Depression 100 to 200 mg orally per day Maximum dose: 300 mg orally per day
Alerts
1-Antidepressants increased the risk compared to placebo of suicidal thinking and behavior (suicidality) in children, adolescents, and young adults in short-term studies of major depressive disorder (MDD) and other psychiatric disorders. 2- It should be noted that Desipramine HCl is not approved for use in treating bipolar depression. 3-The pupillary dilation that occurs following use of many antidepressant drugs including Desipramine HCl may trigger an angle closure attack in a patient with anatomically narrow angles who does not have a patent iridectomy.
Points of recommendation
1-Extreme caution should be used when this drug is given in the following situations:cardiovascular disease,, a family history of sudden death, cardiac dysrhythmias, or cardiac conduction disturbances.,a history of urinary retention or glaucoma, a history of seizure disorder.
Side effects
nausea
,
insomnia
,
dry mouth
,
vomiting
,
Blurred vision
,
rash
,
Diarrhea
,
anxiety
,
confusion
,
anorexia
,
Tremor
,
agitation
,
ataxia
,
urinary retention
,
petechiae
,
hallucinations
,
Agranulocytosis
,
Facial edema
,
Bone marrow suppression
Interactions
Atomoxetine
,
Ergotamine-C
,
Expectorant
,
Ipratropium bromide
,
Bupropion
,
Propafenone
,
chlorcyclizine + phenylephrine
,
Huperzine A
,
Arformoterol
,
Benzphetamine
,
Propylhexedrine
,
Milnacipran
,
acrivastine+pseudoephedrine
,
Halofantrine
,
Grepafloxacin
,
Dexfenfluramine
,
lisdexamfetamine
,
Peginterferon alfa-2b
,
Lorcaserin
,
Arsenic trioxide
,
Desvenlafaxine
,
Xylometazoline
,
Diethylpropion
,
Palonosetron
,
vandetanib
,
Droperidol
,
Procainamide
,
Indapamide
,
Cyclobenzaprine
,
potassium citrate
,
Tapentadol
,
safinamide
,
rasagiline
,
Axitinib
,
Galantamine
,
Venlafaxine
,
Chlordiaze poxide
,
Clozapine
,
Yohimbine
,
fentanyl
,
Zolpidem
,
Salbutamol
,
Sibutramine
,
Cisapride
,
Fluvoxamine
,
Fluoxetine
,
Pimozide
,
Tamsulosin
,
Trazodone
,
Tranylcypromin
,
Duloxetine
,
Dobutamine
Pregnancy level
HAVE NOT BEEN ESTABLISHED